Speeches have been made, voting completed and the results are out.
A huge congratulations to our 2019/2020 Swim Club Captains!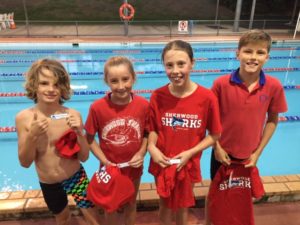 Captains – Maddie Preston and Ollie Mahoney
Vice Captains – Lexi Winks and Hamish Wormwell.
Well done to all of our nominees for their efforts!
Race Nominations
As you all know, race nominations must be completed online. Our online registrations open every Sunday evening and close at 6pm on a Thursday evening. We do not take registrations on the pool deck, but have been fielding up to 30 texts, calls and emails every Friday to add children to that evenings program. We understand that people do forget. However, every Thursday evening, up to 3 hours work takes place manually adding each and every swimmer to the following nights program.
For this reason we can no longer accept any late entries.
We will send a reminder email every Wednesday evening but if you do not register before the cut off on Thursday evening, your child will not be able to compete that week. We thank you for your understanding.
If you have nominated to race and find that you cannot attend Club Night (through illness or other reasons) please email sherwoodsharksqld@gmail.com so we can remove you from the race list. This helps to ensure full races and smooth marshalling on the night.
Invoices
Please ensure that all registrations and invoices are paid in full. Any outstanding invoices will be reissued this week and must be paid in full by Friday the 15th of November (Week 6). After this time, unpaid swimmers will not be allowed into the water. If you have any hardship issues, please come and see us to organise a payment plan.
 Volunteer Roster
Thank you to all of our families for your commitment to our new volunteer roster (now published on our website). Most families have 2 allocated duties, however if you have 3, chances are we will re-allocate your third as registrations continue to be completed. Those of you who found their name missing from the volunteer list, please ensure that you have registered and paid for Club Nights. I will slot you into the roster somehow ?. If you show up for your shift and find someone else doing the job, please still offer to take over. They may not have been replaced, or stepping in to help for one reason or another.
Race Nominations
Friday evenings have seen a large number of children nominating to swim in the 50m events. As a swimmer improves it is hoped that he/she will progress from 25m to 50m races at club nights to continue to develop. However, the Committee sets a standard time for each stroke as a guide for progression.
The standard times for progressing from 25m to 50m are:
Freestyle 25 seconds
Backstroke 27 seconds
Breaststroke 30 seconds
Butterfly 27 seconds
Please be mindful of your child's swimming times and ability before nominating in the 50m events. When it comes to both school and Club competitions all swimmers 9 years and under will only compete in 25m events.