What a fantastic Friday night at the Tank! Olympic and Commonwealth Games Swimmer Grant Irvine was on pool deck to announce our new Club Captains and present them with shirts and leadership badges.
Congratulations to all of our nominees for your fabulous efforts.
2018/2019 Season Leaders
Captains – Charlie Wehl and Cate Ward
Vice Captains – Zac Koehlitz and Chelsea Wilson.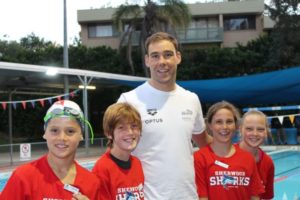 A big thank you goes to our outgoing captains Amy, Lily, Hunter and Jimmy for their positive attitude and leadership at the pool.
Grant was also kind enough to swim a 100m Fly Exhibition Race. He took on our fastest 15 fly swimmers plus our Deputy Principal Ms Eliza Borsht who put in a fantastic effort in the side lane. Grant then swam an individual 50m race and showed us all how graceful Butterfly can look…although he probably swam 2 laps with about 6 arm strokes. He rounded off the evening signing MANY autographs. We are so thankful to Grant for coming to support the Sharks and to our Principal Amanda Hawkswell for arranging this for us!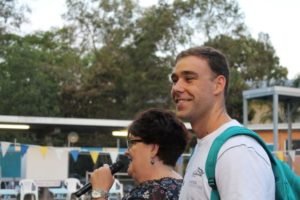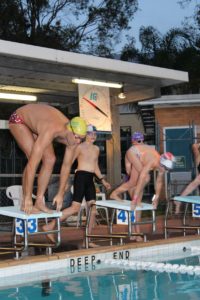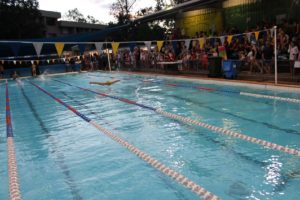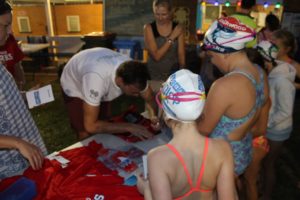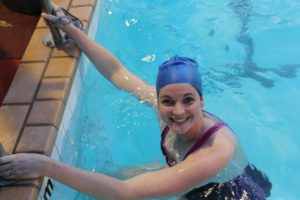 Upcoming Dates
Friday 9th November – No Club Night due to Sherwood Street Festival
Wednesday 21st November – Committee Meeting at 7pm in the School Staffroom. All welcome.
Friday 7th December – Final Club Night & 50th Birthday Celebrations.
Friday 14th December – Final Squad/Lessons for Term 4.